In India, electric bikes are now being recognized and valued. Petrol prices continue to rise across the country, and this is one of the primary reasons that electric vehicles are now in demand more than ever. The rising level of air pollution is also another most important key element in the increased promotion of electric cars and two-wheelers by numerous firms.
1.   Ultraviolette F77
While Revolt, Bajaj, TVS, and, to a lesser extent, Ather all operate in the commuter space, Ultraviolette is one of the few start-ups that aims to provide performance-oriented electrics. Aeronautics and fighter jets are major inspirations for the company. The F77's performance capabilities are claimed to be equivalent to a 200-250cc motorcycle, but their claimed figures are quite close to some 300cc bikes we've tested.
Price:3 Lakh
2.   Revolt RV 400
Revolt Intellicorp created India's first electric motorcycle. This unheard-of brand gave us the first electric motorcycle as well as novel ways to own one. It's a rebadged Chinese product (Super Soco is its technology partner), but it's not like the flimsy ones that flooded the Indian market in the early 2010s. The RV400 is outfitted with high-end components such as a USD fork, an aluminum swingarm, and an LED headlight. The motorcycle's performance is comparable to that of a 125cc commuter.
Price:90,799
3.   Bajaj Chetak
Bajaj re-entered the scooter market with its first electric offering, the Chetak, after a nearly decade absence. The design is elegant, especially given that it has a full metal body. The scooter clearly has a Vespa pedigree. What truly distinguishes the electric scooter is the exemplary levels of fit and finish that Bajaj has strived to achieve. It may not be the fastest scooter on the market, with a top speed of 60kmph, but Bajaj has tuned it for a comfortable ride.
Price:1-1.15 Lakh
4.   Ather Energy
The most expensive electric bike on the list but when it comes to electric two-wheelers in India, Ather Energy has been the undisputed leader. The 450, the electric start-first up's product, gave us our first taste of what a high-quality electric two-wheeler feels like. Its latest scooter, the 450X, builds on the great foundations of the 450, improving on everything good about the original scooter. You have more power, torque, connected features, and weigh less than before.
Price:1.13 to 1.32 Lakh
5.   TVS iQuebe Electric
Only a few months after Bajaj launched the Chetak, TVS decided to enter the market with its own electric scooter. While Ather opted for futurism and Bajaj for neo-retro, TVS kept things simple with the iQube Electric. The scooter was first shown as a hybrid concept at the 2010 Auto Expo. The scooter's performance is commendable, with a top speed of 78kmph.
Price:1 Lakh
Things to Keep in Mind while buying an electric two-wheeler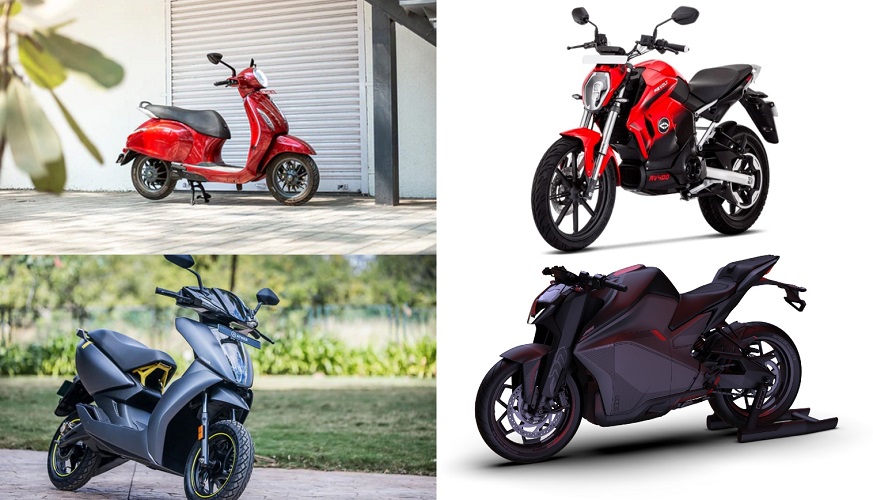 Purchasing a traditional two-wheeler is simple because the market is flooded with options in a variety of price ranges. However, when it comes to purchasing an electric bike/scooter, your options are limited, and the complex working mechanism of an EV makes it a bit difficult to choose the right electric two-wheeler for your needs. A thorough understanding of how an electric two-wheeler works simplify the process of purchasing a two-wheeled EV.
When selecting an electric two-wheeler, one of the most important considerations is speed. If you purchase a low-powered electric bike or scooter, you may find it difficult to ride because it will not deliver the speed you expect. So, before purchasing an electric bike, make sure to check the top speed and performance figures. Slow-speed electric scooters typically reach top speeds of 50-60 km/h, while high-speed electric two-wheelers can reach top speeds of 70-90 km/h.
One of the most expensive bike accessories of an eco-friendly two-wheeler is the battery. So, before purchasing an electric bike or scooter, always check the battery life. Replacing a two-battery wheeler's pack can be an expensive endeavor. The life of a battery pack is typically determined by the type of battery and the usage pattern. When compared to lead or nickel batteries, the new lithium-ion battery packs have a longer life. Tap on car accessories, if you are looking at economical prices.
Conclusion
If we consider the current state of electric vehicles in the country, purchasing an electric two-wheeler is a difficult task. The limited number of options and the complicated operation of EVs make selecting the right electric bike or scooter difficult but after reading this article you will have better clarity on what you look for when you are buying an electric two-wheeler.