When it comes to handling a baby, strollers or buggies come in handy. With a baby stroller, you can carry your child to many places like shops, malls, even for walks and jogging. It will allow you to enjoy every moment with your baby and makes them feel fresh in the fresh environment. Here are some of the best baby strollers for a baby that can provide comfort to your child and save a lot of time to choose them.
R for Rabbit Chocolate Baby Stroller
Little Pumpkin Baby Stroller
Chicco Echo Stroller
LuvLap Sunshine Baby Stroller
Babyhug Cosy Cosmo Stroller

1. R for Rabbit Chocolate Baby Stroller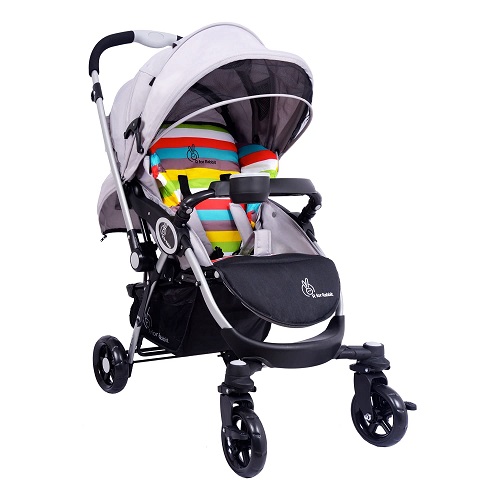 The R for Rabbit brand provides varieties of baby strollers for every age of the child. Chocolate baby stroller from this brand feature six-inch front wheels along with sturdy brakes to ensure a safe ride. The brakes of the stroller allow you to lock and prevent the stroller without any hassle.
The justification is that the stroller is the best example of safety and simplicity, making it one of the first preferences of users. In addition, you can often active your baby in 3 reclining positions which make your rides safe and secure. Choosing a stroller from R for Rabbit especially a chocolate baby stroller is a worthwhile deal.
2. Little Pumpkin Baby Stroller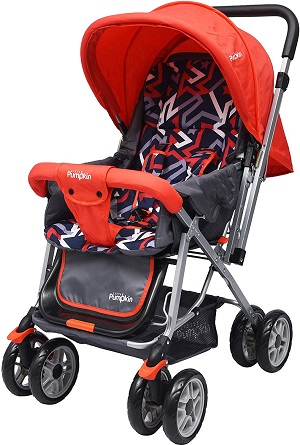 If you're looking for a brand new stroller for your baby, this is going to be an excellent choice. The major quality of this stroller is that it has been equipped with classy and robust wheels. It is too lightweight and easy to fold anywhere anytime. Little Pumpkin Baby stroller is a trendy yet very classy product. The comfortable seat of the stroller allows the baby to enjoy every ride. It is equipped with four bedded covers and comes with a three or five-point safety system. The five safety harness meets all safety standards. But you need to invest a bit extra than other strollers.
3. Chicco Echo Stroller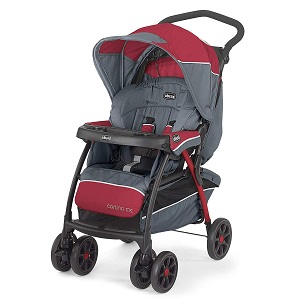 Chicco Echo Stroller is one of those strollers that serve their best purposes. This mind-blowing stroller ensures shockproof rides to your baby. It comes with a front-wheel suspension to make your every journey smooth and easier. When not in use or use, you can easily fold and unfold and store it.
It features a front swivel lock and rear brakes for phenomenal balance & management. Its safety handles allow the baby to be set into three distinct positions and a small compartment enhances the safe in the stroller to keep all essentials while carrying the stroller.
4. LuvLap Sunshine Baby Stroller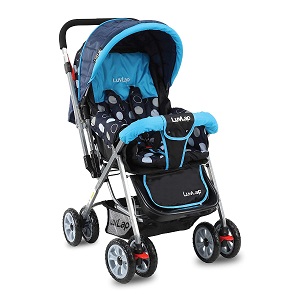 Looking for a stroller that has enough space or wider enough. If you want to buy a superb build quality and premium quality stroller check this stroller. This beautiful piece of construction offers an extra-large safe to lay baby comfortably. It has a front-wheel which gives you a smooth and safe ride.
Moreover, it comes with EN (European Standard) 1888 Certification, making it perfect for babies and toddlers. The five harness points keep your baby secure all the time. In addition, it comes with a rear-wheel along with the brakes. The product is perfect in terms of safety, quality, looks and brand value. Various brands provide strollers at the same price but they don't provide that much quality.
5. Babyhug Cosy Cosmo Stroller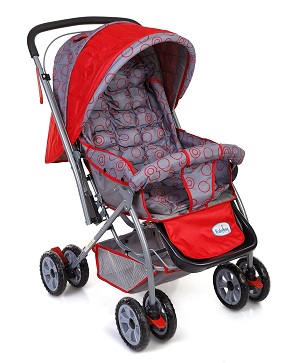 Cosy Cosmo Stroller from Babyhug is convenient for containing various baby essentials through travels and easy to fold. It comes with a cushioned seat with a rubber grip to clutch your baby. Even, the wheels of the stroller are equipped with a lockup window that allows you to keep an eye on the baby while running, jogging, or walking.
Furthermore, it has five-point harness safety baskets and is equipped with three reclining positions. You can carry baby luggage, toys, or other essentials by keeping them in its giant basket. If your baby is 36 months old, you can choose this stroller.
Final Words:
Carrying a baby on the shoulder can be difficult for every mother especially when your baby sleeps on rest in your arms. But if you have a baby stroller, you can lay down your baby into it and even enable them to explore the world. It makes your regular activities easier but for that, you have to find the right stroller for your toddler.