A moon lamp can provide both useful light and ambiance for the home or office, acting as a simple nightlight or creating a spectacular atmosphere. There are as many moon lamps on the market as there are whims for a particular look; the best moon lamp is one that meets your lighting needs while also being visually appealing. From a gentle white glow suitable for a child's room to a levitating, rotating sphere of vibrant color, there is a moon lamp to suit any decor—and provide a sense of bright delight to all who gaze upon this conversation piece. This guide will go over the most important factors to consider when selecting the best moon lamp for your needs, and then it will help shoppers discover some of the best-rated products available for bringing relaxation and wonder to any room.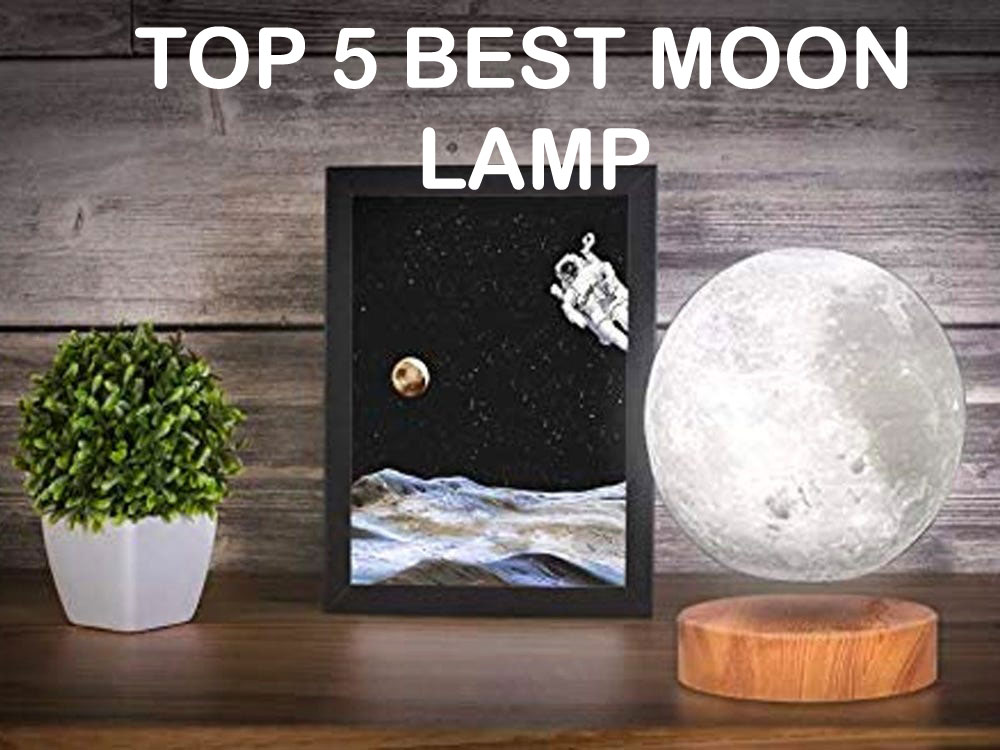 1. SEGOAL Moon Lamp
This flicker-free moon lamp from SEGOAL offers a luxurious glow to change the atmosphere of any room in the home, crafted with a combination of durable PLA and careful 3D printing to accurately capture the moon's many craters. Sixteen color options and four modes, all controlled by a touch button or simple remote control, provide options ranging from soft and relaxing to bright and festive. The 500mAh battery powers the moon lamp for up to 15 hours on a single charge; recharge it with the included USB charging cable. Because of the manufacturer's high altitude test, this moon lamp is safe to use as a nightlight in children's rooms. The lamp was unharmed after a 6.5-foot drop, so parents shouldn't be concerned about accidental drops from a low shelf.
2. AED Moon Night Light Lamp
This moon lamp from AED offers realistic topography in a 5.9-inch globe, with three shades of white glow controlled by remote control or a simple touch. The lamp is suitable for use as a nightlight because users can switch between cool white, daylight white, and warm white options, as well as dimming or brightening the output. Charge the battery with the included USB charging cable; 90 minutes of charging time provides up to four hours of light on the brightest setting and 20 hours on the dimmest setting. The "dormant" timer turns off the lamp automatically after two hours, making it ideal for lulling the user to sleep. This moon lamp is made of 3D-printed plastic and comes with a wooden stand.
3. Mydethun Moon Lamp
This moon lamp by Mydethun creates a comfortable atmosphere for romance, sleep, or simple relaxation with a gentle white or yellow glow and adjustable brightness. Change the color and brightness of the globe with a single touch of the switch at the bottom. The LED light comes in 16 different white and yellow shades, making it simple to set the mood in any room. This sturdy lamp is made of 3D-printed PLA and has a wooden, hand-shaped base for a dramatic presentation. Charge the battery for two to three hours to get eight to ten hours of use out of it.
4. BRIGHT WORLD Moon Lamp
Based on the moon's distinct topography, this 3D-printed moon lamp by BRIGHT WORLD employs an LED light for a cool white or warm yellow two-toned effect. It accurately depicts the moon's surface while conveying the desired atmosphere for any room. The mini touch switch allows for simple control, and the USB charging cable can be plugged into any suitable charging station. Two hours of charging time results in eight hours of use. The base of this ceramic moon lamp is also made of ceramic; it is shaped like a hand that appears to firmly hold the lamp.
5. VGAzer Moon Lamp
A silent moon hovering over a wooden base and emitting a white or yellow glow is a one-of-a-kind addition to any decor that will have guests talking. VGAzer's levitating moon lamp is 3D printed from strong PLA and can hover and spin in the air without being touched. Choose between a cool white and a yellow hue, or alternate between the two with the simple press of a button. The moon lamp has a diameter of about 6 inches. Unlike most moon lamps, which use a USB charger, this one has a corded plug that attaches to the base and provides plenty of power for as long as the light is required.
Conclusion:
These are the top 5 moon lamps all over India. These are top 5 quality which has the topmost durable moon lamp in India. For more updates stay tuned.